Have you been to the Davison Art Gallery lately? Located in the Center for the Arts at the historic Alsop House, the Davison sponsors compelling art exhibitions with a focus on works on paper. For a few weeks still, you can see Tanya Marcuse's powerful show, Phantom Bodies. Marcuse's work challenges our perception of the body, and also of time, science and gender.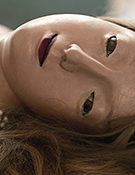 Tanya Marcuse's photographs are on view through December 13.
We have an active collection at the Davison Gallery, ably curated by Clare Rogan. Recently she told me about a great new acquisition — a gift from Profs Andrew Szegedy-Maszak and Elizabeth Bobrick in honor of Peter and Laurie Frenzel. The picture, by Lewis Hine, (American, 1874-1940), is a portrait of a 10 year old tobacco picker working in Gildersleeve, Conn. (1917). This is just across the river in Portland. Hine's pictures often documented child labor, and his work was instrumental in raising awareness about the exploitation of children.
The gift of this stunning gelatin silver print is a wonderful complement to our photographic collection and honors friendship and commitment in our Wesleyan community. How fortunate we are!