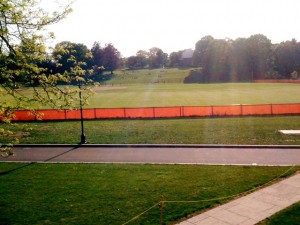 The last finals are winding up, and the campus is quieting down. It's a beautiful day, but Foss Hill welcomes only a few clusters of students. Perhaps even the seniors have gone off for the weekend before the days leading up to Commencement.
Yesterday I received word that the New England Intercollegiate Lacrosse Association named John Raba, the Head Coach of Men's Lacrosse, Division III Coach of the Year. A well deserved honor! This spring many of our athletic teams had very strong seasons, with Baseball beating out Amherst for a playoff spot, Softball making it to the finals of the NESCAC tournament, and Men's Lacrosse winning the NESCAC Championship.
Last night the Justin-Jinich family joined with the Wesleyan community for a memorial celebration planned by Johanna's closest friends. There were beautiful words, pictures and stirring music. A deep sadness settled over our Chapel, but an even deeper love poured from it.
For the next several days we will be sprucing up the campus and preparing for Commencement. Endings and beginnings — this is a time of completion and renewal. Let's hope for another beautiful day.
[tags] John Raba, NESCAC, Division III Coach of the Year, Lacrosse, memorial celebration, Commencement[/tags]