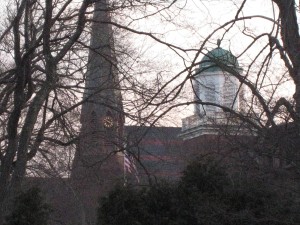 After a frenetic if fascinating trip to some major cities in Asia, it is a real pleasure to come home to Wesleyan, which is enjoying spring break. When I left 10 days ago, there was a frantic energy in the air in the wake of meetings with students and faculty regarding recent conversations with the Board of Trustees about Wesleyan's finances. Many people were feverishly dealing with midterms, papers and the various pressures that arise just before the final push of the academic year.
The quiet on campus is deceptive. Some people are working very hard, indeed. On Saturday I watched the men's lacrosse team win a closely fought contest with rival Middlebury – always a tough match. Wes prevailed 8-7, led by Russ Follansbee's three goals and an assist, and 16 saves from goalie Mike Borerro. On Sunday the women's lacrosse team had a strong showing in beating Eastern Connecticut State by a score of 13-6. Jess Chukwu had three goals and Erin McCarthy had two goals and two assists in a great team effort.
There are many students whose work over spring break is much less visible but just as intense as that of our athletes. At CFA members of the Javanese Gamelan orchestra have been rehearsing, and over the weekend I crossed paths with more than a few musicians heading for their practice rooms. On my late night walks with Mathilde I see studio lights still burning as our artists and designers prepare their final projects for April exhibitions.
Many seniors are putting their best efforts into writing up their research into senior theses. On subjects ranging from comic memoirs (Jon Short, English) to Quranic conceptions of justice (Benedict Bernstein, CSS), our young scholars are making original arguments that advance the work of their chosen fields. Toshi Osaka (Design) is considering how to construct an interactive space by collapsing a swimming pool and a train station, and Alison Ringel (Molecular Biology — Biophysics) is examining how proteins interact to determine how genes are activated in yeast. Seniors are writing novels, making films and developing new scholarship in anticipation of that April deadline. For these students, spring "break" is just an opportunity to get lots of work done!
It's good to be back home in Middletown. But the campus isn't as tranquil as it might appear…
[tags] Asia, Board of Trustees, Russ Follansbee, Mike Borerro, lacrosse, Jess Chukwu, Erin McCarthy, Center for Arts, Javanese Gamelan, senior theses, Jon Short, Benedict Bernstein, Toshi Osaka, Alison Ringel [/tags]