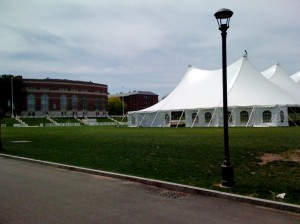 The crowds are gone, the tents are coming down in front of College Row, but there isn't anyone dancing on the lawns. After a productive Board of Trustee Meeting, a boisterous series of Reunions, and a grand Commencement (sandwiched between thunderstorms), the campus is settling into its summer calm. This is, I hope, the last summer for which I can say that. Next year we hope to have at least a few hundred students here taking classes, but now it's time to catch our breath and plan for the future.
I was sorry to be only able to catch glimpses from time to time of old friends from my student years at Wes. I was busy in the early part of the weekend listening to tales of Wesleyan traditions, meeting recent alumni and giving my share of toasts and speeches. Happily, there was plenty of great music to be heard, as is usually the case on our campus. Commencement was lovely, and I was especially moved by the speeches from our honorary doctorate recipients. You can hear them all at:
http://wesinthenews.blogs.wesleyan.edu/2009/05/24/commencement-ceremony-broadcast-online/
At our board meeting, some trustees spoke about finding the "new normal" in the wake of the financial crisis. That's something we are already working on, but looking out the window now I see the "old normal" of Foss Hill partially eclipsed by the remaining party tent. Late spring at alma mater.