Over the last week I'd been traveling out West, and many Wes parents (and some of their sons and daughters) wondered how they would cope with the return to colder climes. Walking on the beach on Santa Monica, Sophie asked me more than a few times "Why did we ever leave this place?!" (Sophie was born in Santa Monica when I was at the Getty Center and Kari at UCLA.) Watching the sun come up was a treat:
I met with more than 200 alumni, students and parents who attended a great event at the Los Angeles County Museum of Art, and I then went on to Arizona to meet with a smaller but no less energetic group. The beauty of the beaches and then the desert was striking, but returning to Middletown's snowy landscape has been invigorating.
As I make some final edits to my syllabus for the Past on Film, I wonder how our returning students will react when they see their campus filled with snow drifts from what journalists here are calling one of the "storms of the century." Wes looks like a winter wonderland, and Foss Hill has been filled with young folks racing down into the snowpack of Andrus Field. And some of the sledders aren't so young! Kari got me out there yesterday (even though I told her I'd grown allergic to velocity), and it was fun careening down the hill. Here's the proof: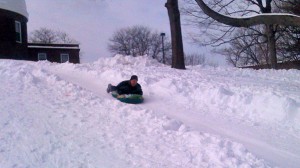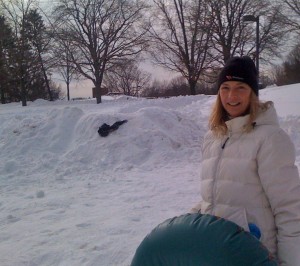 I remember well the last "storm of the century" when I was a student at Wesleyan struggling with my senior thesis in 1978. Having the snow to fall into, Foss Hill for sledding, and plenty of camaraderie from professors and friends made the winter warm and welcoming, as well as quite spectacular. It still does!