Temperatures have dropped over the last couple of days, and we've had a few inches of snow here in Middletown. Winter is really here.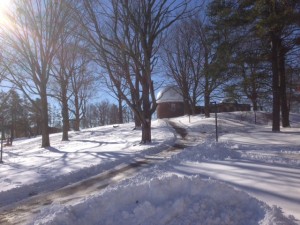 Wesleyan athletes are already back and competing (congrats to women's ice hockey on a strong win last night), and in a few days our Winter Session pilot program will be underway. Students will be studying foreign policy, statistics, the graphic novel, and computer science, and they will be doing so in a very intensive way. Another group of undergraduates will be working in Fullbridge's "internship edge" program, while still others will be enrolled in programs through the Wesleyan Career Center. I look forward to hearing their reports on how we can make the best use of these early January weeks.
I am preparing my online and campus classes (having just turned in my grades for the fall semester). In the administration we also use this time to evaluate how we are doing on our annual goals. I've read through all the proposals on new ways to energize campus learning, and there are several terrific ideas on which we will be following up early in the semester.
Winter is here, and it's time to start making 2014 a great year for Wesleyan!