When I first spoke (mp3 audio file) at Wesleyan after being appointed president-elect in the spring of 2007, I talked about education in terms of freedom, equality and solidarity. As an old French historian, I said then, this trinity of values had made a great impression on my thinking. Of course, I'd replaced "fraternity" with "solidarity" in my speech, looking for a gender-neutral way of talking about the bonds of community.
A liberal education, I have said many times since my introductory speech in 2007, is about overcoming your self-imposed immaturity (as Kant said), or learning to obey laws that you give yourself (Rousseau). I had felt liberated by my own Wesleyan education. The sense of freedom that came from discovering what I loved to do, getting better at it, and sharing it with others, is a gift that Wesleyan has given to generations of its graduates.
Equality remains such an important value at Wesleyan, which opens its doors to talented students regardless of their ability to pay. At Wes, our commitment to equality makes our economic diversity possible. Which is why financial aid is such a key part of our budget, allowing us to support students whose families could not otherwise afford to send them to our university. During the last several years, we have seen an unparalleled growth in economic inequality in this country, and wealth increasingly is the primary mechanism for accessing cultural, political and economic opportunity. When access to higher education is based on wealth, even strong universities just reinforce inequality. At Wesleyan, our embrace of equality and diversity is a commitment to fight this trend, and many alumni help in this endeavor by contributing to financial aid.
In my introductory remarks to the Wesleyan community in 2007, I stressed a third theme of "solidarity." I spoke about how at Wesleyan we were a strong community that valued freedom and equality combined with diversity. I have since written about the affectionate solidarity that runs through our campus culture, and about the exuberance that creates individual excellence and deep social connectivity. Wes students continue to produce work at the highest level while remaining tied to one another in community.
Now, I look out on a peaceful, rainy, Andrus Field, the calm before the outburst of activities around Reunion Weekend and Commencement. As the weather brightens at the end of the week and alumni begin streaming in, I know they will be eager to re-connect with old friends, former teachers and the powerful memories that still reside for them on this beautiful campus. I trust they will be stirred anew by   the excitement of discovery that was part of their transformational Wesleyan experience. Freedom of inquiry combined with an ethos of equality and solidarity remain hallmarks of our campus culture, the culture that returning alumni have helped build over the years.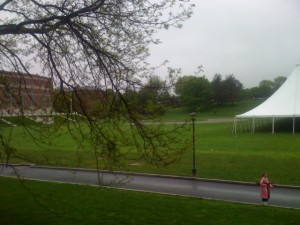 On Sunday a new group of Wesleyan students will join the alumni ranks. The class of 2011 began their college education with me four years ago, and I am grateful to them for their patience with a new prez, their spirited sense of play and work – their devotion to our traditions and their spirit of creativity.
It will be bittersweet for Kari and me as we say goodbye on Sunday — it seems like such a short time ago that we were all attending pre-frosh summer send-offs together. We wish our new alums only the best, and we look forward to welcoming them back to campus whenever they need to plug into the power of the liberty, equality and solidarity that are hallmarks of the Wesleyan tradition now and forever their own.