This weekend Michael Strumpf from Bon Appetit and I signed the RealFood Commitment. Thanks to Manon Lefevre (who also signed the document) and her comrades in WESFRESH, I came to see that we can do more to bring more locally grown, healthy, humane and sustainably produced food to our campus. We all know that this isn't a panacea: signing this commitment doesn't solve all the problems with our food supply. But it is a step in the right direction – a step we were proud to take.
I've arrived pretty late at any consciousness at all about these issues, and my receptivity to the students in WESFRESH was due almost entirely to my wife Kari, whose work in animal studies has intersected with environmental issues in general and food production in particular. This has been an exciting week for us because the first copies were delivered of Kari's new book Thinking Animals: Why Animal Studies Now?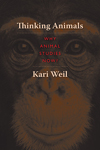 The book examines "real and imagined confrontations between human and non-human animals, and "unseats the comfortable assumptions of humanist thought and its species specific distinctions." Kari started off as a professor of French and comparative literature, but over the last several years has been increasingly involved with the burgeoning field of animal studies. The College of Letters has been a great interdisciplinary home for this wide variety of interests. Philosopher Lori Gruen and Kari co-direct a research institute at Wesleyan sponsored by the Humane Society that begins just after graduation. Lori's Ethics and Animals is a key text in applied ethics and animal studies.
At the signing of the RealFood commitment, we were serenaded by a wonderfully inventive band, Ratched and the Lunatics, led by singer-songwriter Raechel Rosen.
The other members of the band are fabulous Wes students Shourjya Sen, Dylan Awalt-Conley, Robert Don, Jacob Masters, Rachel Pradilla, and Annie Maxwell. Their wonderful music was powered by a group of energetic cyclists, pedaling energy into batteries and generators (thanks to the College of the Environment).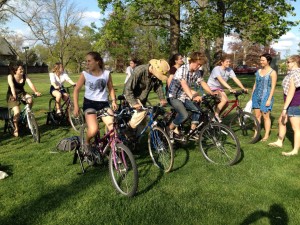 Wesleyan renews energy every day. Go Wes!