Baby, it's cold outside. Here in Middletown the snow and ice make it a good time to head to the gym to see some hot action.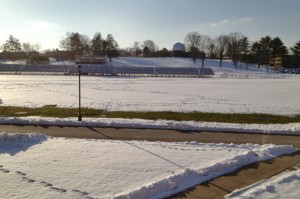 Tonight (Friday) the men's and women's basketball teams match up against Amherst. The men start at 6 pm, and the women get underway at 8pm. Just in the middle of these contests, the men's hockey team will face off against Middlebury (at 7 pm). Women's ice hockey is on the road at Middlebury, coming off a win against New England College on Tuesday night.
Tomorrow all the teams are back in action. Trinity dribbles to the gym for more b-ball, while Williams will skate into the rink for a mid-afternoon match. You can see complete schedules here.
This is a winter break for many, but Wes athletes are working hard! Go Wes!!