When I went out to get the paper this morning just before six, I saw the big bus out behind Usdan loading up passengers. Finals were over just yesterday, and the residence halls would soon be empty. Many staff members took some vacation days this week, and faculty are at home or in their offices grading. The Winter Break is here.
Yesterday I wrote briefly to our campus community reflecting back on 2009. It was a year of great extremes: from intense sadness and mourning, to great joy and celebration. Through it all, I have felt so fortunate to be surrounded by friends and colleagues at Wes. And now, as I see just a few young sledders coming down Foss Hill, the campus seems to be catching its breath.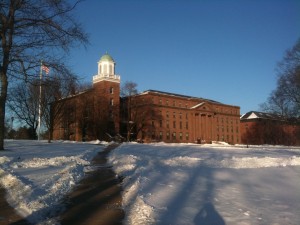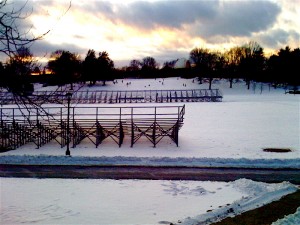 I just came back from the libraries, where I was looking for materials for my spring semester class. But I know it's time for a break. There are presents to open, and Mathilde is eager to have more time to run in the snow.
I've already thanked faculty, students and staff for their remarkable contributions this year. I'd also like to thank those alumni and parent readers for their input and their support. This ongoing participation shapes the future of our university while connecting us to our vital traditions. Thank you for helping to make Wesleyan such an extraordinary place!
I wish you all a peaceful and joyful holiday season. I'm already looking forward to a great 2010!

[tags]winter break, 2009, 2010, spring semester[/tags]