As I walked across campus on Friday I marveled at the beautiful, crisp fall day. The Wesleyan campus looked spectacular, and there was excitement in the air as we prepared for visits from families and alumni for Homecoming/Family weekend. Students were busy finishing midterms or getting essays written, athletes were gearing up for Little Three rival Amherst, and faculty and staff were, I think, feeling pretty lucky to be working in this charmed environment.
I had plenty of opportunities to talk with parents, grandparents and siblings throughout the weekend. One of the dominant themes in their comments to me: how happy and welcoming these Wes students seem to be! We joked about how often it is that smart young people show their braininess by also showing their discontent. At Wesleyan by contrast, students are smart, hard working, often very angry about the status quo (including the administration right here), but they display exuberance in their studies, in their sports and cultural activities, and in the way they build their constellation of friends.
The athletic contests were great fun to watch, as our competitors fought hard against a tough opponent. Our scholar-athletes improve with each practice, with each contest, and I am proud to see them strive for excellence in these competitions. And I was far from alone in my pride. At each game there were crowds of family and friends showing school spirit as we cheered on the Red and Black.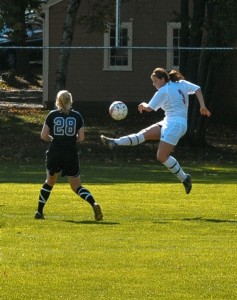 There were many great events over the weekend, from seminars on the current economy, on global warming, and on various aspects of our curriculum. I only wish I could have attended more of the stimulating discussions. I heard from many that the conversations on the current economic crisis and on the presidential campaign were enlightening, and that talks about robots, about anthropology and going home, and about the forces that shape contemporary film left our alumni and parents eager to return to a liberal learning environment.
Another highlight of the weekend was the a cappella concert in the Chapel Saturday night. Several student groups sang a variety of traditional and contemporary songs with talent, precision, and lots of humor. How very Wesleyan that a student group would make up its own rendition of "Tempted by the Fruit of Another." For this Family Weekend occasion the song was rewritten as "Tempted by the Fruit of Your Mother"! The concert helped raise money for the after-school programs at Wesleyan's Green Street Art Center in the North End of Middletown.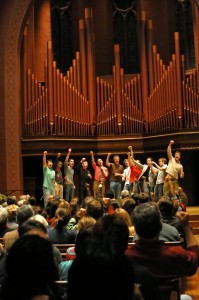 The sweetness of the welcome given to our families and alumni is another sign of our generous, open community. An alumnus returning to Middletown after decades of working in Abu Dhabi told me how moving it was to find he still had a home here, and that alma mater continues to be a beacon for liberal arts education. He is proud, and so am I!
[tags] Homecoming/Family Weekend, Little Three rival, Amherst, scholar-athletes, seminars, liberal learning, conversations, economic crisis, a cappella, Green Street Arts Center, liberal arts education [/tags]