Well, this isn't really about arrival day, but about the "common moment" evening of orientation. The theme for the first year students followed our "Feet to the Fire" program concerning climate change, and this year students focused on issues about water. Readings, lectures and discussion groups examined the cultural, economic, and spiritual dimensions of water, with some important focus points on purification and distribution.
Friday night at least 500 of the frosh gathered at the base of Foss Hill to learn dances with a water theme from different cultures around the globe. The great Wes drummers and dancers led the event, and the rhythms were stirring. Prof. Barry Chernoff, who has been inspiring our efforts in environmental studies and our planning for the College of the Environment, helped stir up enthusiasm for the event with Pam Tatge, Director of the Center for the Arts. Dance professor Nicole Stanton was joined by grad students, faculty and staff in keeping the crowd moving. There was joyful participation (and great ice cream!). The program concluded with the fire dancing students of Prometheus. My camera phone isn't adequate to capture the powerful scene, but here are a few snaps: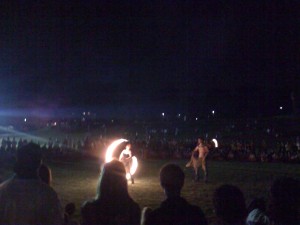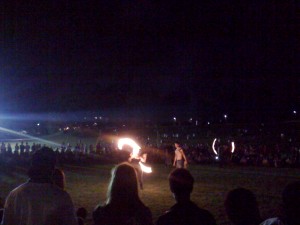 The frosh are now being joined by the rest of the students, with classes beginning Tuesday. This fall we will see the results of our small class initiative, which has added dozens of new classes to the curriculum. My own small seminar meets on Mondays, so I'll have a bit more time to prepare, inspired by how Andrus Field and Foss Hill came alive Friday night.
[tags]arrival day, Feet to the Fire, Barry Chernoff, Pam Tatge, Nicole Stanton, class initiative, Prometheus[/tags]